All images: Hanna Tuulikki, SING SIGN: a close duet, 2015. Courtesy of the artist. Photo: Robin Gillanders.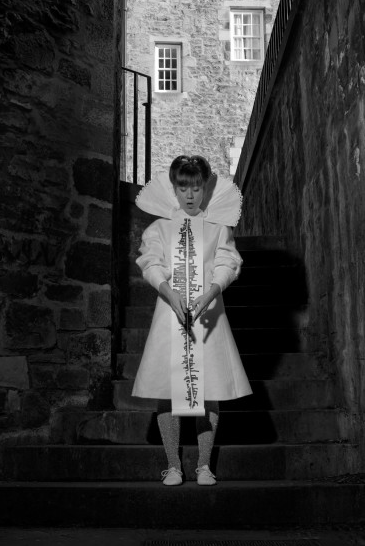 HANNA TUULIKKI
SING SIGN: a close duet

(Version française en bas de page)


"SING SIGN: a close duet" is a vocal and gestural suite in which, facing one another, a male and female performer enact an enigmatic encounter: a wordless dialogue conducted entirely through gesture and song. The choreography, derived from British Sign Language, weaves together street-names and mimetic gestures, while the melody is split between two voices. Despite the complete absence of words, at the heart of SING SIGN is an embodied reflection on language, and how the languages we have access to shape our experience of the world around us.
Performed by Daniel Padden and Hanna Tuulikki
Conceived, composed and directed by Hanna Tuulikki

May 9, 2018, Performance starting at 9:30 P.M.
Artist, composer and performer Hanna Tuulikki  (b. 1982) works across a range of media and forms. She specialises in composing for and with the voice, creating extended vocal sounds that sit at the heart of live performances, films and audiovisual installations. Blending musical composition with gestural choreography and iconic costume, she augments the work with 'satellite elements' – innovative visual-scores, intricate drawings, and poetic texts – which act as dramaturgical keys, unlocking subject-matter or narrative. In research-led, multi-disciplinary projects she considers how sound, gesture and language frame our connection with our environment, re-imagining resonant stories of contemporary relevance. Her critically acclaimed work is featured regularly on radio (BBC Radio 4, BBC Radio 3, BBC Radio 6), and has been commissioned, presented and exhibited by national and international organisations across fields of visual, musical and performing arts.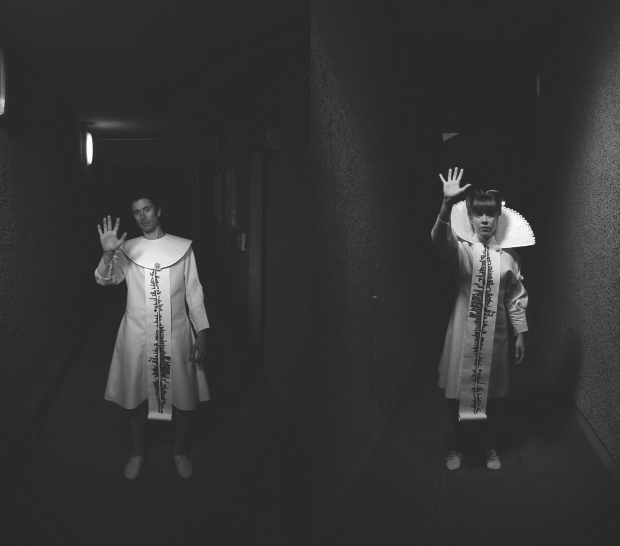 Artiste, compositrice et performer, Hanna Tuulikki (1982) s'appuie sur une large gamme de mediums et de formes. Elle se spécialise dans la composition pour et avec la voix, en créant des sons vocaux prolongés qui sont au cœur de ses performances, films et installations audiovisuelles. En mixant la composition musicale avec des chorégraphies gestuelles et des costumes iconiques, elle enrichit son travail par des « éléments satellites » (partitions visuelles innovantes, dessins complexes et textes poétiques) qui opèrent comme des clés dramaturgiques, débloquant le sujet ou le récit. Dans des projets multidisciplinaires orientés vers la recherche, Hanna Tuulikki se focalise sur la manière dont le son, les gestes et le langage façonnent notre relation à l'environnement, en réinventant des histoires faisant écho au monde contemporain.
Son travail, acclamé par la critique, est souvent présenté par la radio (BBC Radio 4, BBC Radio 3, BBC Radio 6), et il a été commandé, présenté et exhibé par des organisations nationales et internationales du secteur des arts visuels, de la musique et du spectacle.

" SING SIGN: a close duet" est une pièce vocale et gestuelle dans laquelle un homme et une femme, face à face, mettent en œuvre une aventure énigmatique: un dialogue muet réalisé entièrement à travers des gestes et de la musique.
La chorégraphie, dérivée de la langue des signes britannique, tisse ensemble noms de rues et gestes mimétiques, tandis que la mélodie se répartit entre deux voix. Malgré l'absence totale de mots, on trouve, au cœur de SING SIGN, une réflexion en actes sur le langage, et sur la manière dont chacune de nos langues peuvent changer notre expérience du monde qui nous entoure.
Performance par Daniel Padden et Hanna Tuulikki
Conçu, composé et dirigé par Hanna Tuulikki

ABOUT
PAST
HOME